Jacketed Conveyor Housing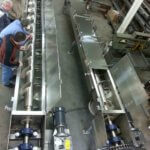 A jacketed housing is used for a variety of reasons, such as:
To cool materials while conveying.
To maintain product temperature while conveying.
To heat product while conveying
To protect equipment in a high heat atmosphere.
To capture and contain fluids under a perforated trough.
Each application that requires a jacketed housing will always Have unique features & requirements. These features & requirements will be what dictates the design & layout of the housing, such as:
Length of the jacket on the housing
The number of screws in the housing
The size of the housing; is the housing round or a "U" trough
How the housing discharges, cantilevered end discharge or drop out etc.
Where the housing discharges, in an incinerator etc.
What fluid will be run through the jacket, at what pressure And at what gpm etc?
The material of construction of the housing and jacket will be determined by the material that is being conveyed, the temperatures that will be encountered, the atmosphere the equipment will operate in, the fluid that is being used in the jacket, etc.
Most jacketed housings have baffles in them for the control of the fluid running through them. Great care is taken with the baffle design and placement to make sure that the fluid path does not leave any dead spots in the jacket. When the jacket is for the purpose of fluid containment only coming from a perforated housing then baffles are not used.
Click any picture to zoom in.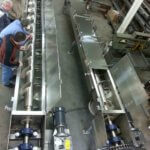 Jacketed Conveyor Housing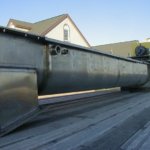 Jacketed Conveyor Housing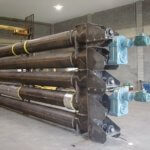 Jacketed Conveyor Housing