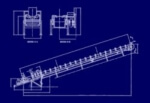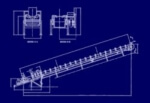 A belt conveyor has several advantages and disadvantages when being considered as a mechanical means of bulk materials conveying.
Some of the advantages are:
It is one of the cheapest ways to move material long distances.
There is virtually no degradation of your product caused by conveying.
The conveyor can have changes in elevation.
The material can be visible on the belt while being conveyed.
Belts can be loaded virtually any place along the belt.
The belt can have "trippers" to unload the belt almost any place.
Belt conveyors can have metal separators designed in.
Weigh belt sections can be added for continuous product weighing.
Belt conveyors can pivot at one end allowing the discharge to be moved over an arc (radial stacking).
Incline belts can have cleats added to the belt to stop product roll back.
Belts can have sidewalls added to stop product spillage.
Some of the disadvantages are:
The normal design of a belt conveyor is opened. If your product needs to be contained, covers and or drip pans can become expensive and cumbersome.
If the material is sticky, belt cleaning can be difficult and generally not very successful.
There is almost always material carry over from the belt discharge and this becomes a house keeping problem.
If the material being conveyed is sticky it will ultimately get transferred to the return side of the belt and then to the rolls, idlers and pulleys, then belt tracking can be an ongoing issue.
Odder control is virtually impossible.
Click any picture to zoom in.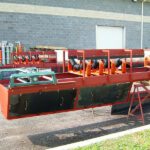 24 Inch Belt Conveyor moving charcoal briquettes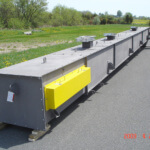 Belt Conveyor Moving Ash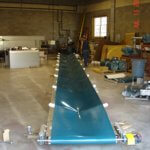 Belt Conveyor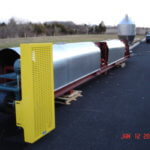 Belt Conveyor