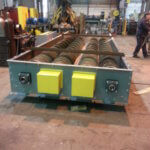 There are many reasons & applications which require variation to standard screw conveyors. These are just some of the factors & conditions that will influence the design & construction of a screw conveyor:
What material will you be conveying?
What are the material characteristics?
What is the bulk density of the material?
What through put capacity is the screw to be designed for and at what housing loading?
Where will the material be coming from?
Is the screw to be a feeder or a conveyor?
Is the screw horizontal, incline or vertical?
Is the screw reversing?
How long will the screw be, centerline of the inlet to the centerline of the discharge?
Are intermediate hanger bearings for the screw acceptable?
Housing construction information:

Material of construction
Dust tight construction
Pressure tight construction (i.e. Will the housing have to hold pressure)
Will the housing require a "code stamp"?
Will the equipment be in wash down service?
Hinged covers?
Tubular or "u" trough housing?
Type of shaft seals
Food grade polish
Welding requirements
How is the housing supported, etc.

What is the inlet size that we are connecting to and how many inlets are there?
What is the discharge size that we are to connect to?
Is the discharge a drop out, injector style or positive feed?
Is there more than one discharge called out, and do they have slide gates?
What style are the slide gates and how are they operated?
Is the screw service continuos, 8 hr a day, 24 hr a day, batching, intermittent etc.?
If there is more than one screw to a housing, how many drives?
Is the screw to be portable?
Will the screw be required to dewater or drain product?
Will the screw be required to mix product while conveying?
Will the product be abrasive?
What material of construction in product contact?
What type of welding in product contact?
What finish or polish is required in product contact?
Click any picture to zoom in.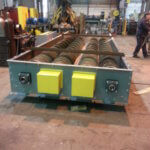 Screw Selection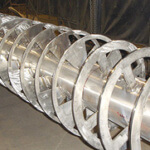 Screw Selection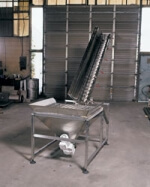 Screw Selection