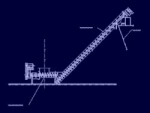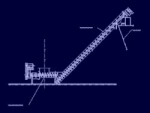 A screw in the horizontal is a conveyor or feeder, but as the screw is inclined it very quickly becomes a lift or pump. All of the charts & formulas for calculating speed and capacity for a screw, in the horizontal are no longer applicable, what now comes into play is product knowledge and experience for sizing and calculating speed and horse power for incline and vertical screws.
The need to elevate material can pose many challenges. Some of the things that must be determined are:
How high must the material be lifted?
How far horizontally is the material to be moved?
What is the material to be conveyed?
What are its characteristics?
Is close clearance of the screw to the housing required?
How is the material going to be fed into the screw?
The answers to these questions will tell you the degree of incline of the screw and the true length of the screw. Based on product knowledge the size and speed of the screw can be estimated. Incline screw should never have internal screw supports, as they pose an obstruction to the product flow (product flow vertically and or up an incline is always critical). Product flow is controlled by speed, but speed can only be estimated, once you know the true length of the screw, the degree of incline and the material flow characteristics. Speed of the screw = horsepower required. Also when estimating horse power the number of starts and stops, the time in-between stops and restarts, and the estimated amount of residual material in the conveyor when starting all must be considered. Inclined Conveyor
Since the initial screw speed was estimated based on the information provided and experience the drive for an incline or vertical screw should always have the ability for screw speed changes, i.e. "v" belts and sheaves. This gives the ability to make speed adjustments in order to get the desired product through put at the desired housing loading.
It can be very hard to use a vertical or incline screw as a feeder. The speed necessary to convey the material may produce a greater product flow than desired, the speed necessary to convey the material may cause "tip rejection" and there for no flow of material. If a vertical or incline screw needs to deliver a uniform feed rate this is a good example for the use of a cantilevered screw feeder to provide the uniform positive force feed into the incline or vertical screw conveyor.
Click any picture to zoom in.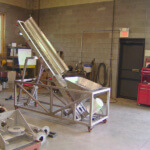 Adjustable Screw for R&D Center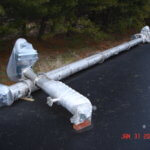 Incline Screw Conveyors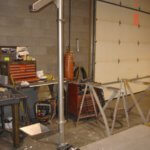 Incline Screw Conveyors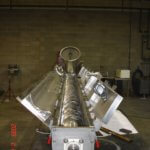 Incline Screw Conveyors