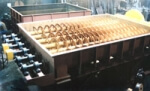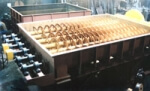 Screw feeders are generally under bins, hoppers or silos. When materials flow through the feeder, characteristics from the bins, hoppers or silos are considered. The length & width of the bin, hopper or silos discharge are usually called out to insure proper flow to the screw feeder inlet. When the capacity of a bin, hopper or silo is very large its discharge is also, usually, large and in situations such as this the volumetric withdrawal is generally accomplished with multiple screws. In cases where the bin or hopper walls are vertical or have negative slope, due to the materials' characteristics (i.e. angle of repose, sticky, fibrous etc.) then the bottom of the bin or hopper has screws across it ("live bottom"). These screws usually discharge into a collecting screw which discharges to the designated point.
The drives on screw feeders are usually variable speed, so that the discharge from the bin or hopper can be adjusted, as required, to stay within a prescribed range. Depending on the number of screws across the bottom of the bin or hopper there may be one drive for all the screws, several drives with the screws driven in-groups or individual drives for each screw.
Click any picture to zoom in.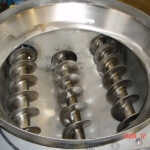 6 Inch Tri Screw Feeder moving PVC 3 pellets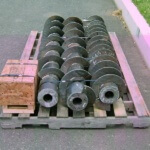 12 Inch Screw for a glass plant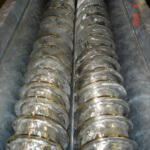 8 Inch Twin Screw Feeder moving calcium chloride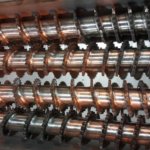 Multiple Screw Feeders